Step into a world of enchantment with our buy one, get one half off promotion!
Explore our Apothecary, Body Care Products, Candles, Digital Products, Gemstones, Jewelry, Library, Perfumes, Ritual & Intention Oils, and Spells & Ritual Kits collections with an exclusive offer: Buy one, get the second at half price!
Use this magical deal to elevate your personal wellness and spiritual journey today. This promotion cannot be combined with sales or coupons.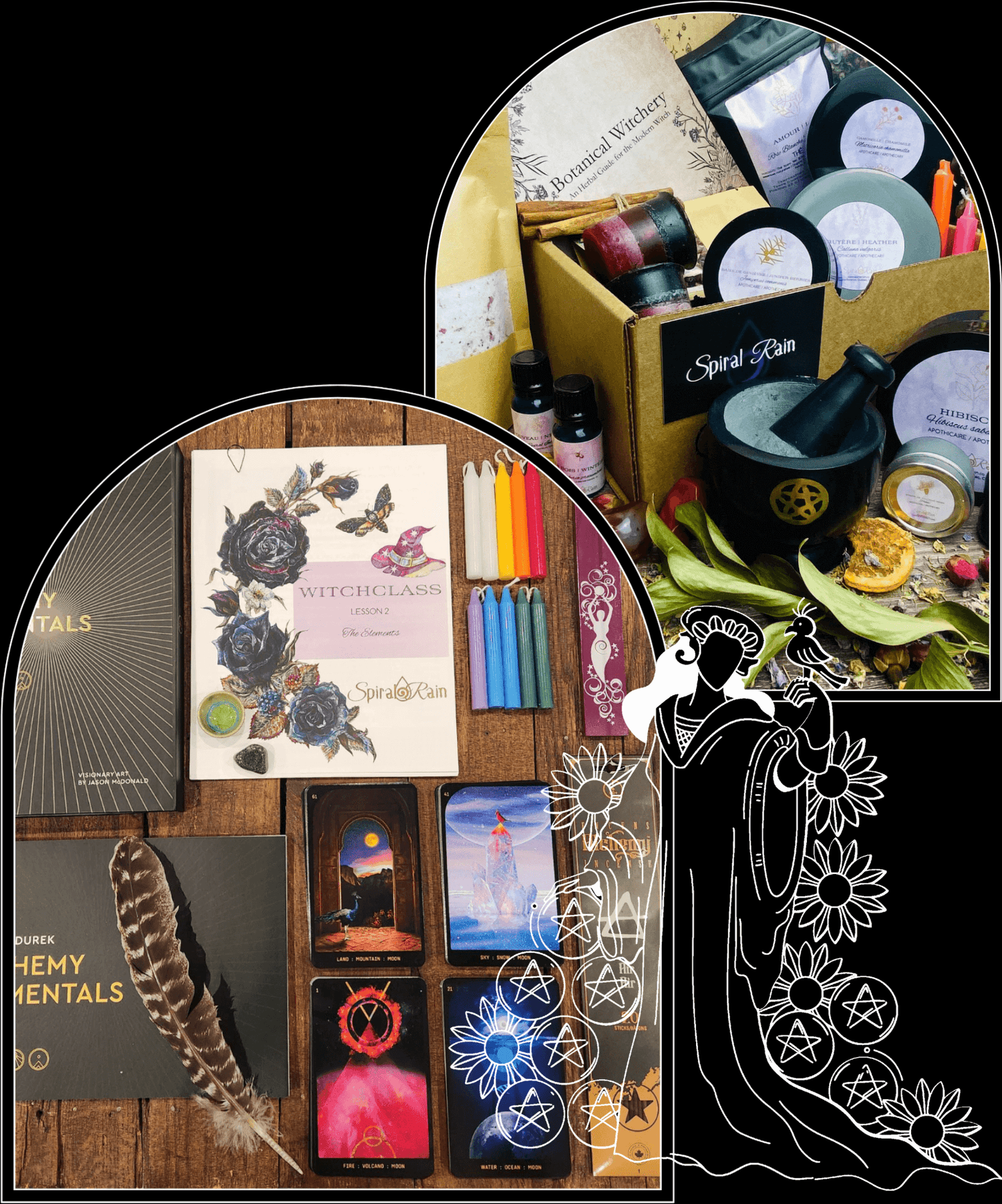 Welcome to our Enchanted and Magical Realm...
Blessings and welcome, to Spiral Rain. With gratitude, we honor your journey that led you to our mystical sanctuary. Our haven was woven together with the intent to elevate your spiritual well-being.
Here, you'll discover artifacts steeped in magic and mystery, an invitation to intertwine your essence with the heartbeat of nature. Synchronize with the Lunar Symphony, dance to her ebbs and flows, and discover all the hidden gems Mother Earth has graciously bestowed upon us.
May you unearth treasures that resonate with your soul, nurturing your spiritual journey, right here in our spiritual cradle...
May your journey through our store stir your spirit, charm your senses, and bless you with the divine essence of the cosmic universe. Here's to your witchy exploration, and may the magic be with you always
SHOP NOW
PREVIOUS BOXES
Peace and Journaling

Earth Magick

Crystals for strenght
library

Each page, a whispered secret of the universe; each volume, a door to another realm. Here, ancient wisdom intertwines with celestial lore, creating a tapestry of knowledge that spans the cosmos. In our mystical repository, you'll unearth the hidden truths of the natural world, align with the rhythms of the Moon, and delve into the mystic heart of Mother Earth. Step into our enchanted library, and let the magic of knowledge illuminate your spiritual journey

SHOP NOW

jewelry

Here, in our sacred space of creation, each piece of jewelry is a tangible whisper of the universe, handcrafted with intention, graced by the touch of spiritual artisans. Our adornments marry earth's raw beauty with cosmic energy, creating amulets that resonate with your soul's unique frequency. Step into our Celestial Forge, let your eyes dance upon the luminary designs, and choose the piece that sings to your spirit, inviting you into a deeper embrace with your mystical self.

SHOP NOW

candles

Every flame that flickers in our candle alcove tells a story crafted by hand and, shaped by intention. Whether to cast a spell, to manifest an intention, or simply to bathe in their calming luminescence, these little fires are more than just candles; they're your companions on this spiritual journey. Step into our enchanted Luminary Atelier, and let the whispering flames kindle your path towards mystical exploration and spiritual discovery.

SHOP NOW
canada based

Our worshop is located in Trois-Rivieres, Quebec, Canada

handmade

All of Spiral Rain's products are handmade with 100% natural ingredients, love, specific intentions, and magic!

socially responsible

We donate 1$ to Sustaining Hope International for each subscription box sold to help fight global poverty and give access to water supplies.

shipped worldwide

We ship our magic all over the world